Fast and efficient pretreatment – with aeoon's pretreatment unit
Coloured textiles have to be pretreated before they can be printed in conventional DTG processes. Unlike other printing systems available on the international market, aeoon uses an external pretreatment machine.
This method holds major advantages over pretreating inside the printer: The process is not only faster and more efficient, it also avoids damage to the inside of the printer, which is often caused by internal spraying of pretreat. In addition, the amount and position in which the liquid is applied to the textile can be precisely determined. Printing on the already dried garment also helps achieve much higher image sharpness than with the wet-on-wet method. Fine lines and details can be printed effortlessly and clearly.
Textiles pretreated with the aeoon PTB unit can also be stored for up to a year and one machine can cater to several printers. This creates a smooth, efficient and fast workflow.
Benefits:
Individual spray areas with up to 13 nozzles
Laser automatically detects areas to be pretreated
Cleaning function of the nozzles and the conveyor belt
Saving individual pre-treatment settings
Changing liquids simply at the touch of a button
Large spray area: up to 1x3m
Optional: Can be connected directly to dryers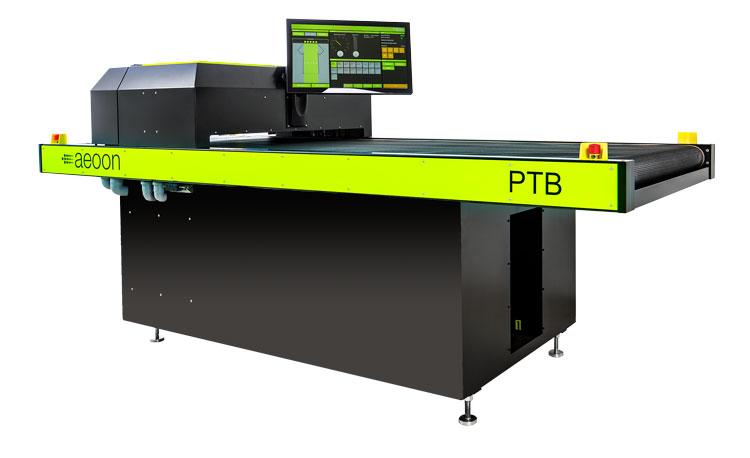 1
Simple operation via touch screen. Frequently used settings can easily be saved.
2
A cleaning system ensures that nozzles and conveyer belt remain clean.
3
aeoon's PTB series holds connections for 4 different types of pretreatment. The individual liquids can be changed very easily at the push of a button.